"Post Apocalyptic Seeress of the Junkyard"
This is one of the things to come out of the "baskets of possibilities" pictured below. She is a rod puppet I made this summer to play in an upcoming Geppetto's Junkyard (a puppet troup I am so fortunate to be a part of) production.  She was born from an idea I had several years ago to make a puppet that was beautiful, magical and more importantly, that moved well, and a sketchy vision for a vignette staged at the dawn of civilization. As usual my early plans fell away, along with wood chips, fabric scraps and all sense of time, allowing creative license it's due. 
"There's nothing more intoxicating than creating something from nothing."       - Rainbow Rowell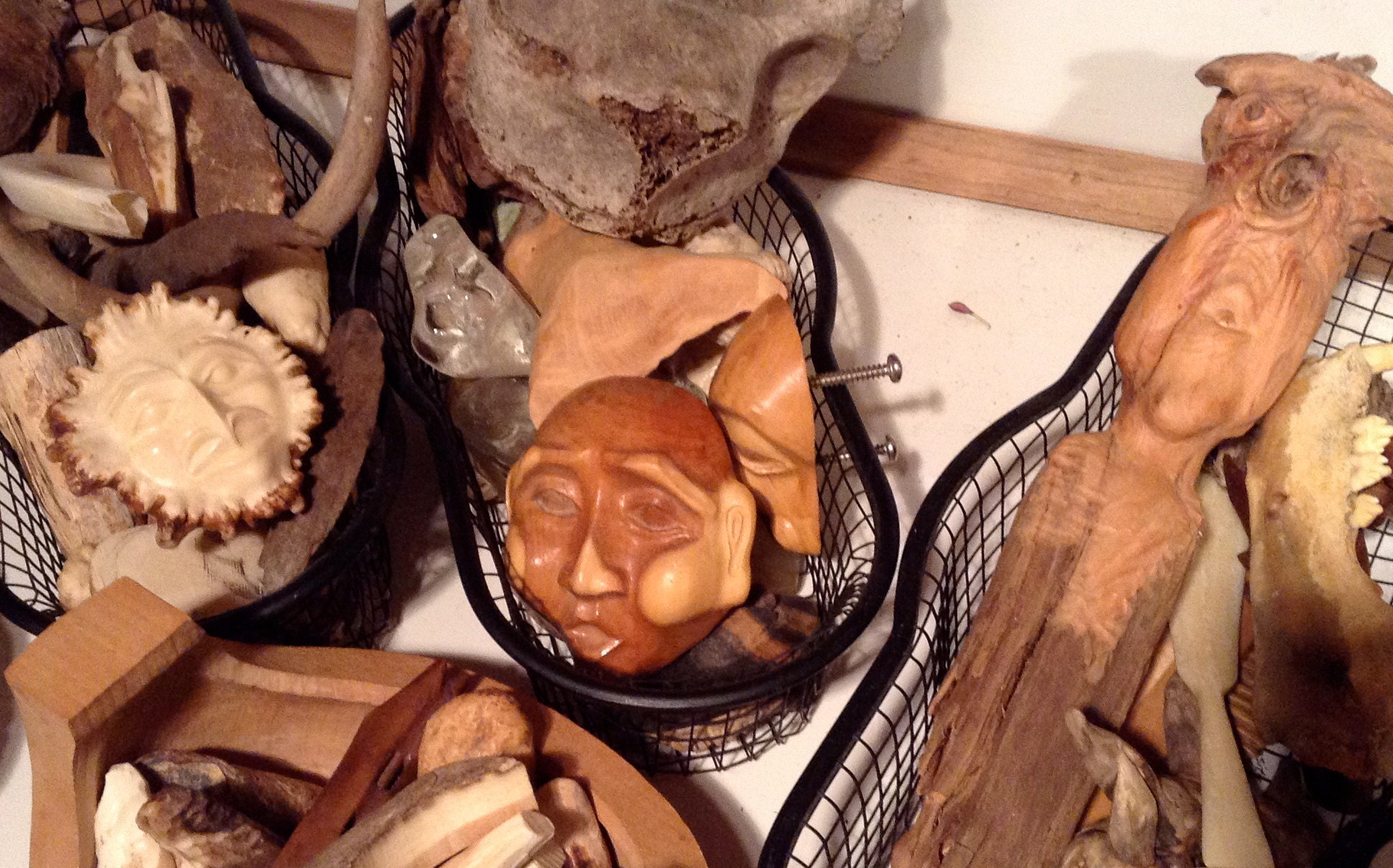 Baskets of possibilities… 
Welcome to my first blog!
I make things. That's how I define myself to myself: as being a maker of things. Some of those things turn out to be art. I make figurative sculpture; carving faces, hands, feet from chunks of random wood, piling through my fabric stash to find just the right cloth for stitching layers of skin and clothing, listening for their stories to surface while I work. I make jewelry; finding my way through a slab of hard green wax to the piece I have imagined then waiting to see how it translates after being cast in silver. And sometimes I make books from the words that never stop spilling onto scraps of paper, stacks of half-filled composition notebooks, nothing but scribbles and scrawls until I get to work.    
I have a compelling need to use my hands and my head and my heart to bring things out of the nothing and into the something, the physical, the here and now, things that can be seen and touched, things that have something to say.    
I am discovering that the medium matters less and less as time goes by. Carving, stitching, writing, it's all the same game with different tools. Getting lost, letting the moment have it's way. Looking back with amazement. Who wrote this? Who made this?
This is my heaven on earth.    
Debi Knight Kennedy October 2017     
"Don't think about making art, just get it done. Let everyone else decide if it's good or bad, whether they love it or hate it. While they are deciding, make even more art."  - Andy Warhol